Corona Virus information
Always check & read the latest medical advice on COVID-19 on NHS INFORM.
Argyll & Bute Coronavirus Helpline - 01546 605 524.
For help with Financial, Business, Health, Education, Registration, Social, Domestic and Medical Homecare needs. Mon-Fri 9- 5.
See the latest newsletter Issue 66.
Kilninver & Kilmelford Community Council
COVID-19 Volunteer Group
YOU ARE NOT ALONE
HELP IS JUST A CALL/EMAIL AWAY.
If you are self-isolating and are in one of the at-risk groups (over 70 or with underlying health conditions) we have mobilised a support team that can help you with:
Picking up shopping Posting / collecting mail Collecting medicines Urgent supplies A friendly chat Because of the spread-out nature of our community we have divided our volunteer recruits into "sub-areas" to facilitate assistance within a manageable distance / amount of households.
Below you will find a list of volunteers in your area who you can call on to help. In the first instance, please call a member of your area team but everyone below is willing to help so if you are feeling in need DON'T BE SHY and reach out by whichever way suits you best.
IF ANY OTHER VOLUNTEERS WOULD LIKE TO OFFER THEIR ASSISTANCE PLEASE CONTACT louisarogers@gmail.com stating your area, name & contact methods, or call her on 01852 316 283 / 07968 077 605
All volunteers should read the Argyll & Bute guidance on volunteering safely at this page: https://bit.ly/ABCovid19Volunteer
PLEASE REMEMBER
EVERYONE'S HEALTH IS OF PARAMOUNT IMPORTANCE
To help protect everyone please arrange beforehand with your helper how they will interact with you in a safe & responsible manner.
Coronavirus is highly contagious. Please take every precaution to ensure you are spreading only kindness. Avoid physical contact, wash hands regularly for at least 20 seconds with soap and water. Items should be left on a doorstep / outbuilding.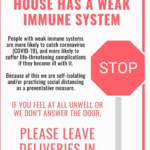 To help you with notifying visitors, you can download this poster, print it and attach to your window and/or door. (If you want an emailed copy please email louisarogers@gmail.com).
THANK YOU to all our community volunteers AND all those who are no doubt, as usual, lending a hand and helping out their neighbours in lots of different ways.
*Please understand that everything is in a massive state of flux at the moment and we are unpaid volunteers trying to keep up with fast-moving information & responses, so please do bear with us if information is outdated or moved on by the time you read this.